Sporades
For the destination Sporades, EASY SAILING operates departures and returns for all yacht rentals from its charter base in Skiathos Island. There is a number of ways to reach Skiathos...
The typical and common description all yachtsmen give for the area is: "Sailing the Sporades is all about anchoring in a bay at one side of a sandy or rocky beach letting the pine trees provide adequate shade to the boat and her crew".
Although Skiathos is one of the most popular holiday destinations in central/northern Greece with the most famous beaches, the other three bigger islands of the Sporades Group (Skopelos, Alonissos and Skyros) are equally beautiful and rather unspoilt. All of them consist of mountainous terrain, have dense vegetation and altogether have established their own, special original character different from any other place in Greece.
There are numerous beaches in the area and many of them are accessible only by boat. They are found not only in the bigger and smaller islands, but in the North coast of Evia as well and inside the Pagassitikos Gulf (Volos) and the East coast of Thessaly mainland. Another must-see spot is the MARINE PARK of the seal Monachus-Monachusjust wherethe minor islands (Piperi, Kyra-Panagia, Yioura, Peristera, Psathoura, Skyropoula, Skantzoura) are situated NW of the main Sporades.
Chalkidiki is another magnificent and unspoilt place for sailing holidays, but the closer and sole charter base in the vicinity is again in Skiathos. Many people are hiring yachts out of Skiathos for a period of 2 weeks or more just in order to sail north directly to the peninsulas of Chalkidiki (Kassandra, Sithonia and Athos).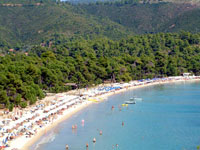 The two western peninsulas Kassandra and Sithonia with their limitless sandy beaches are very attractive and relatively closer to the Sporades. The eastern of the 3 peninsulas of Chalkidiki called Athos is a mountainous place, full of monasteries, mostly with steep rocks that make approaching and anchoring an issue.
Sheltered anchorages and safe waters for beginners and normal sailors are all waters in the south part of the major islands and the seas between Evia and Greece's mainland.
Along the east coast of Evia island at the open Aegean Sea, there are just a couple of anchorages that can protect a yacht from the ?often & strong? north winds that prevail in the area.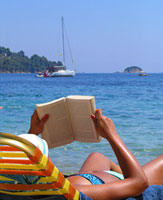 Most tourists are crowded in the main port of every island so it is more than expected that most of the "STUFF" will be found there. Provisioning, Fuel, Water, Shops, Technical assistance, bars, restaurants, disco, Greek music nights, and any other thing a tourist would consume will be found at the main port of every Sporades Island (which also happens to be the capital of every island). For those who like more to stay on the anchor than to dock every afternoon, there are lots of beaches to do so. In all the organised beaches (those with sun beds and umbrellas), there is at least one tavern or restaurant to dine out and possibly a small store (mini-market) to buy provisions, water, ice etc.
About the weather conditions in the Sporades in more detail it should not be ignored that lately GREECE experiences strange climate conditions. It is kind of a RISK TO COUNT on what the weather statistics say for the last decade, but it is still the only starting point for a weather portrayal:
During the summer months, it is rarely raining, the winds (N, NW, NE) are calm to moderate, there is plenty of sunshine and the temperature is 20- 30 C (or 68-86 F) though at night it gets a bit chilly. In spring and autumn the wind is similarly blowing from the North (NE - NW) but every 3-4 weeks intervals, the winds usually turn direction and blow from South as well.In May & October the weather is a little bit colder.
In a few words the Sporades is a warm and sunny region with typical GREEK climate conditions so bring along your camera, your sun protection lotion, sunglasses and mosquito repellents.
If you have heard about the Meltemi winds of the Cyclades area a little southern in the Aegean, you must be prepared for similar conditions BUT LESS STRONG. Generally speaking, the wind's Force in Beaufort scale is 3-5 and may rarely reach Force 7.
As it happens in the open Aegean Sea winds begin in late June, blow stronger in July and August, and fade out in the middle of September.
On the other hand, a kind of "funnelled" East winds at the channels of Trikeri and Orei (SW of Skiathos isle close to the N part of Evia) shall be taken into consideration. Inside the gulf of Volos (Pagasitikos Gulf), the "rule" is NW winds at Force 2-5.
For theaverage level of nautical competence/experience, the Sporades area is just fine.
Below there is information & a few statistics for the climate, winds (direction and force) as well as air and sea temperature, rainfall and sunshine hours per day ? all useful to those who plan their sailing holidays in this part of Greece. If you like, you can download this table as a PDF and read it offline by clicking the image.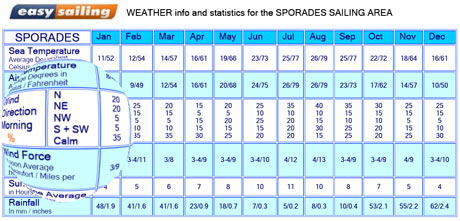 Other names and synonyms used for the area are: Sporadhes, Sporadi, Skiatos, Skiatho, Sciathos, Schiathos