Alimos Charter base - Saronic & Cyclades - Sailing in GREECE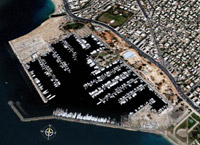 THE MARINA
Kalamaki (Alimos) Marina is said to be the largest charter base in Greece and the East Mediterranean Sea. It is located 12 kilometers away from Athens center at the south coast of Attica-Athens. During the charter season, it is a very busy place because it is the main yacht base for many charter companies in Greece. There is a frequent connection with Athens historical center (Acropolis, Parthenon, Plaka old town, etc) and with Piraeus, the main port for ferries, flying dolphins and catamarans to all the Aegean islands, Cyclades and Dodecanese.
HOW TO REACH OUR ALIMOS BASE
The Athens International Airport EL. VENIZELOS is situated in
Spata
area and is approximately 41km from Alimos marina. Getting there is pretty straightforward. You can either take a public bus or a taxi. You will find both as soon as you exit the main airport areas. The public bus (OASA) runs on a 24hr basis and is every 20-25 minutes and the ticket costs 6 Euro. Depending on the traffic, the route from the airport to the marina is approx. 90 minutes. The name of the bus that you have to take is X96 and it is heading to Piraeus port. Your stop is called EDEM, (ask the bus driver for help).
The taxi is certainly the most convenient solution and costs approximately 45-50 Euro.
A pre-arranged transfer with mini-bus can also be provided by EASY SAILING at a small extra cost.
MEETING POINT/OFFICE
The meeting point is at the mobile office (c/o Vernicos Yachts and Dream Yacht Charter) opposite pier Nr. 3 in Alimos marina next to the cranes. Most EASY SAILING yachts are moored in pier Nr.3.
MOORINGS
When returning, go stern-to. Mooring lines are available. DO NOT USE ANCHORS!
Alimos marina (or so-called Kalamaki) is a public marina and services are far from 5 Stars rating. Lately, it is better organized & clean enough, but one should not expect to get berth-guidance from the marina staff or phone/ lines. Internet connection is available but the signal is not reliable.
FACILITIES
Hot water showers and toilets at 80m distance from the yachts or less. Water and 220V power are available on the quay.
Fuel is delivered on the quay by a car-tanker. A taxi stand is found within the marina, though is better you ask us to order one. ATM cash point, marina offices, and port police are situated in the middle of the marina attached pier 5.
A few banks are located within 350 meters distance.
Unguarded car parking areas are available too, though we suggest cars are parked in front of the port police small car park or at a small street of the residential area across the marina.
PROVISIONING
There is NO supermarket within the marina (!). You can either send us a provisioning list before you arrive and have everything brought directly to your boat or do your own shopping at the big-chain supermarket on the main street (Poseidonos Avenue), across the West entrance of the marina. They can deliver things to your yacht most times with a big delay. On Saturdays, big chain supermarkets close at 20.00h and on Sundays are closed all day. In case you arrive late, you may use the "Tassos supermarket service". Mr. Tassos and his network of employees in all piers will spot you no matter what (!). This is an all-day service and a tough competitor of the normal supermarket. His guys will pick you up with a car, take you to a smaller grocery store nearby and lift you back with all you buy directly to your yacht (They say it's free of charge, but in reality, items are 5-10% more expensive than in a big supermarket). A night-club is built within the marina premises, and loud music can be annoying on Friday nights. Tip: Don't forget to get ice, so that you save your yacht power at night!
RESTAURANTS
There is a variety of restaurants, including Greek and Italian cuisine, on and around the main road Poseidonos Avenue which some of them deliver to your yacht!! A fancy, expensive coffee shop breakfast & all day snack-restaurant called "Kitchen Bar" is situated in the marina.
A good option is the non-expensive Greek tavern named "Vassilis" situated very close to the marina. Our staff at the base can provide you with information about locations of several near by places and their
specialties.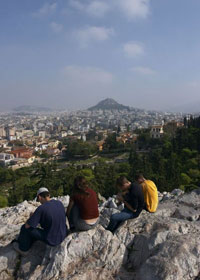 Tip: Take the tram to Syntagma Square downtown and walk 700m to Monastiraki. There is a fine kebab house called "Thanassis", order the good and cheap, usual kebab plate served with pita breads. On your way back to the marina you will enjoy the view of the illuminated Parthenon marbles up the hill.
SIGHTSEEING IN ATHENS
For more information on interesting places and other sailing tips, you may check Google's web page of Athens (Link)
THE WEATHER
The Saronic Gulf and Eastern Peloponnese is generally a protected sailing area, with winds seldom exceeding Force 2-4B out of NW to N. The weather is sunny and warm with very little rain, but some during spring and autumn.
HAZARDS
ATTENTION to the

reef of AGHIOS COSMAS

, SE of the entrance to Alimos Marina, is difficult to spot at night. MORE ATTENTION should be drawn to the MERMINGIA rocks, 4-4.5 miles SE of Alimos Marina in the direction of Cape Sounio.