Corfu Charter Base - Ionian Sailing Greece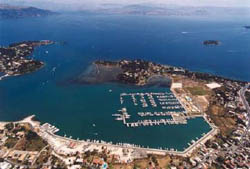 THE MARINA
The Marina is situated 9km from the main Corfu town in Gouvia Bay attached to Kontokali village. The taxi ride from the airport to the marina takes about 20 minutes and costs approx. 20 - 25 Euro. The private marina Gouvia in Corfu together with Kontokali village within walking distance offer all tourist services.

HOW TO REACH OUR CORFU BASE
Corfu Island can easily be reached by plane, by ferry or by intercity bus. The airport caters to many international normal & charter flights as well as domestic flights. Domestic flights are run daily from Athens or Thessaloniki by Olympic Air and by Aegean Airlines and cost approximately 100 euro per person. The duration of the flight time is approx. 50 minutes. Another way to get to Corfu is by ferry boat. There are two ports from where you can take the boat to Corfu: Patra port in North Peloponnese coast (Port police station Tel. 2610 341002) and Igoumenitsa port about 25 miles SE of Corfu town on Greece mainland (Port police station Tel. 26650 22235).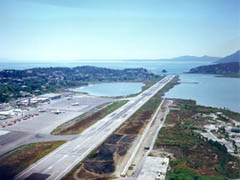 From Patras, it takes roughly 8 hours to reach Corfu and from Igoumenitsa less than 2 hours. Ferries run daily to Corfu from both ports.
For further information on ferry schedule and prices, you can visit www.superfast.com or www.greekferries.gr. You can also reach Corfu by Intercity bus from Athens which will take about 10-11 hours (Bus Station Tel. +30 210 5129443) or from Thessaloniki about 8 hours (Bus Station Tel. +30 2310 595-406).
OUR SUGGESTION: A direct charter flight to Corfu would be the best solution.
MEETING POINT / OFFICE
The EASY SAILING meeting point is at Dream Yacht office opposite the entrance of the 1st floating pier. For late arrivals (after 19:00h) a special arrangement will apply.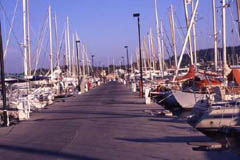 MOORINGS
Easy Sailing berths have mooring lines. When returning, go stern-to or bows-to. Our personnel and officers from the marina will help you locate the right place. Please do not use your anchor!
FACILITIES
Water is available on the quay in all berths. A special point for refueling is situated at the dock NW end of the marina. You will get your yacht full of fuel and right before you finish your charter you should dock the fuel station and refill fuel tanks. Power 220 V is available in all berths in Marina Gouvia.The marina is quite big and the supermarket, restaurant, and cafe will require a 5-10 minutes walk. A 24-hour taxi service is available within the marina.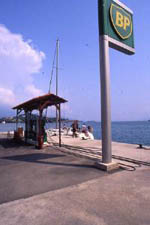 The local bus terminal of Kontokali village with a connection to the main town and to many villages/ beaches of the island is within walking distance. ATM cash point you will find into the marina. Many banks are located nearby.
Parking area (unguarded but quite safe) is also located in the marina near the port police.
SIGHTSEEING IN CORFU
For more information on interesting places and other sailing tips, you may check our Easy Sailing web page for Corfu island.
PROVISIONING
There is one big supermarket situated in the marina that has almost anything you need and delivery can be made directly to your boat. Outside the marina (in Kontokali), you can find more supermarkets within walking distance (10 minutes walk) where the locals shop.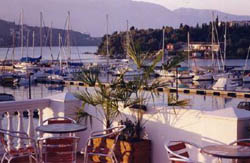 RESTAURANTS
There is one good restaurant into the marina but you can find more restaurants, taverns, bars, cafes, tourist shops and an abundance of other tourist shops inside the marina and in Kontokali. For a more fulfilling Greek experience avoid the all "touristy" places with Menu1, Menu2 signs.
THE WEATHER
From May to September, the winds blow from the NW. It starts around noon, dies down during sunset and varies in force between F2 & F5 Beaufort Scale. In October and during springtime (till late April), the wind direction and force varies from N to S. In summer, the weather is warm and sunny, with occasional rain in spring and autumn. For more weather details you may check Easy Sailing web page for the major area of the Ionian Islands
HAZARDS
When entering the bay of Gouvia, keep to the north side to avoid the shallows. The shallows are buoyed.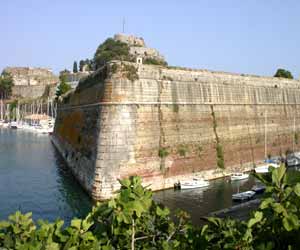 The Old town fortress - a photo all sailors take during boat charter. All conspicuous when approaching Corfu with a sailing yacht.



| | |
| --- | --- |
| "Liston" Alley in Corfu town | Hotel Corfu Palace in Kerkyra town |
| | |
Other names for Corfu island: Kerkyra, Kerkira, Corfou, Korfu, Korfou, Corkyra, Korkyra.