Kos Charter Base - Dodecanese Sailing Greece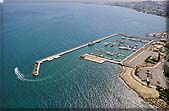 THE MARINA
KOS Marina is located one mile SE from Kos old harbor and can hold up to 250 yachts. It has gained many flattering comments since its opening in 2001 and many boats from Greece and Turkey moor for a just few days period or all-year-round.
HOW TO REACH OUR KOS BASE
Reaching Kos Island is easy either by plane or sea. Having its own airport, Kos can be reached by daily domestic flights from Athens run by Olympic Air and Aegean Airlines costing 80-100 Euro including taxes. Flight time from Athens is approx. 1h. In addition, during the summer months, many direct flights (including charter flights) to Kos operate from many European cities. The airport is located 27km west of the island's major town. A public bus service connects the airport to the city but taxis are also easy to find just outside the airport terminal and they drop you off right in the marina at a fee of 40-45 Euro.
If you prefer a "cheaper way" to travel, there are regular ferry lines to Kos from Athens (Piraeus Port). The islands on the route Kos are Patmos, Leros, Kalymnos and Rhodes. The ferry takes approx. 10 hrs to reach Kos island, however, in the summertime, the "express" ferries and fast catamarans take approx. 5-7 hrs only. For further information on ferry schedule and prices, you can visit www.greekferries.gr. Though bare in mind that ferry timetables are "published" approx. 4 weeks before departure.
ADVICE: Allow flexibility in your schedule when traveling by ferry as part of an ongoing journey. If delayed, see some of the sights of interest you may have missed! The shipping companies are prone to changing which ships they use on any given route - so as always, call to check if you want to book on a particular ship.
OUR SUGGESTION: A direct charter flight from your country to Kos would be the best solution.
MEETING POINT/OFFICE
The meeting point is at the EAS SAILING office which is located inside the marina on the first floor of the marina building over the coffee shop.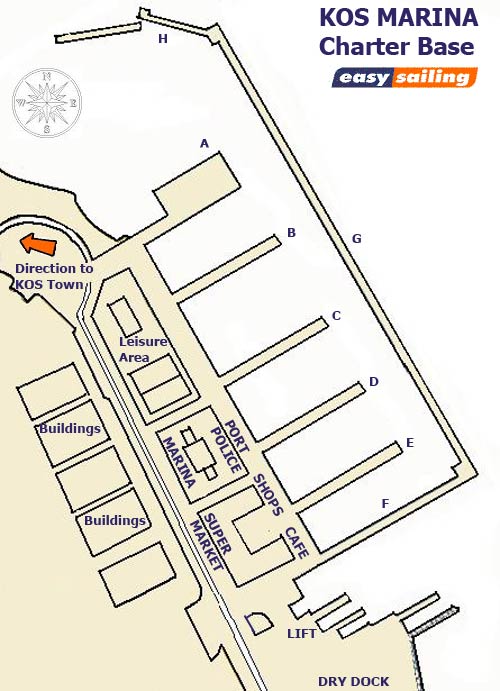 MOORINGS
Most EASY SAILING yachts are moored in pier

F

.

When returning to the marina berth where directed. There are laid moorings tailed to the quay.
DO NOT USE ANCHORS! Kos marina is a private one offering a high level of services; it is well
organised & very clean. The marina officers attend on VHF channel 77 (call sign KOS MARINA). Telephone Number: +30 2242 0 57500 (30 lines)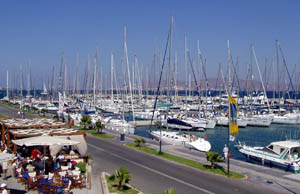 FACILITIES
Hot water showers and toilets are found close to the moorings. Water and 220V power, telephone and cable-TV are available in all berths. A fuel quay is installed at the opposite side of the entrance to the marina. So, at the end of your charter, please dock to the fuel station before entering the marina.
A taxi stand is found within the marina, though is better you ask base personal or the marina office to order one for you. ATM cash point is in the middle of the marina, at a small shopping center. A number of banks are located in Kos town at a 1.5Km distance. The marina is fenced, and a safe, dedicated car parking lot is on the south side near the lift hoist. Internet, telephone, and fax services are offered in the Marina's Office - Info Centre where meetings and events can be organized. Baggage storage is available for a modest charge, at the reception.
PROVISIONING
There is a decent supermarket within the marina and shopping carts will make provisioning easy. You may always send us a provisioning list 2 weeks before your charter and our base staff will have everything brought directly to your boat.
Tip: Don't forget to get ice so that you save your yachts' power at night!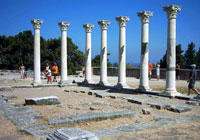 RESTAURANTS
There is snack-restaurant into the marina, though you may select from a variety of restaurants in Kos town, including Greek, Turkish and Italian cuisine. Ask EASY SAILING staff about the exact location of the small excellent tavern within walking distance.
SIGHTSEEING IN KOS
For more information on interesting places and other sailing tips, you may check our Easy Sailing web page of
Kos Island
THE WEATHER
In the summer the prevailing wind is the Meltemi, blowing from the NW-W. It is less strong and frequent until mid-June and after late September, but sometimes may blow without a break for 5-7 days. More information on the weather is found Easy Sailing Greece web page for the major area of the Dodecanese. A weather forecast is shown on Info board at the marina's reception.
Tip: The winter in Kos is cold only from December to February. All other months are quite warm and you can benefit from very cheap charter prices in March and November.
HAZARDS
Keep clearly off the shoals extending from Cape Ammoglossa 1 mile north of the marina opposite to the Old harbor and the commercial port of Kos island.