Flotilla sailing? ... Cabin charter? ... Gulet Cruise?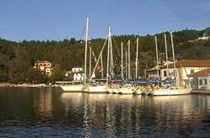 FLOTILLA SAILING belongs to the category of the Bareboat charters is which includes a group of small sailing yachts o­n a bareboat basis (without crew) 34-45 feet (10-15 meters) long, rented out in whole or in part. All the little yachts sail together accompanied by a leader-guide following a pre-designed specific route/itinerary. The two calm, easy and smooth sailing areas in Greece that you can sail in a flotilla are A) the Saronic and Argolic Gulf in Athens and B) Lefkas & Corfu islands in the western part of the Greek islands, the Ionian sea. Dodecanese islands flotilla is recommended for more sailing enthusiasts
EASY SAILING does not deal with flotillas. For flotilla sailing in Greece, you can find more information atSEAFARER flotillas and POSEIDON charters flotillas

Another type of sailing holidays that belongs to the bareboat charters is the CABIN CHARTER where guests rent just a double cabin of a sailing yacht with o­ne skipper (and maybe a second crew member), to follow a pre-designed route, no matter if finally all cabins are occupied /"sold out" or not. Since EASY SAILING is a charter company that is not offering cabin rentals o­n sailing boats, you may check other companies that do so?POSEIDON cabin charters, G ADVENTURES cabin cruises, and Intrepid cabin charter

GULLET (or GULET) SAILING CHARTERS is a kind of sailing holidays that cannot be clearly set into a specific category. The gulets are bigger (20-30m / 60-100ft) wooden sailing yachts, so-called "motor sailers", with a permanent crew of 2 persons or more. Gulets are usually not expected to sail in open seas and windy areas. Coastal smooth relaxing sailing is their style. They are available mainly in Turkey, though lately some can be rented in Croatia and Greece. Who is interested can charter the whole gullet or just a double cabin (all with ensuite toilet / WC / head). For people with a little or no sailing experience, gulet sailing holidays are the economical way of yacht vacation onboard a crewed yacht with breakfast (and lunch/dinner if needed) offering "advantages" found in fully crewed charters.