Sailing to Myconos and Santorini
Two of the most famous places in the Aegean sea (and worldwide) are the Greek islands of Myconos & Santorini. We prepared the following information for those who would wish to sail the two Greek islands in the Cyclades area or sail just to Santorini island within one WEEK CHARTER o­nly. At Easy Sailing, we try to accommodate all kinds of sailing needs and wishes, but at the same time, we believe it is necessary to provide accurate information for the planning of each trip. Most fleets allow bareboat charters of 1 or 2 entire weeks in the main season, so one-week yacht charter is the most common plan. The big majority of the sailing yachts for charter in Greece are based in Athens (Alimos or Lavrion), so we are mainly talking about one-week charter starting and ending in Athens.
Read the details HERE
First of all it is important to mention that in the Aegean Sea and in the Cyclades area, in particular, there are often winds blowing from the N with force 25-40 miles per hour. Fog, rain, currents and heavy storms are very rare, though winds are sometimes an issue.
For experienced sailors, winds can be a routine or a challenge of pleasure but for occasional sailors no. Sailing downwind is considered easier (not always true), while sailing long distances upwind is slower, more difficult and uncomfortable.
Another issue is the distance for the given duration of one week.
Mykonos is East of Athens at 90 Nautical miles and Santorini is SouthEast of Athens at 130 Nautical miles where the distance between Mykonos and Santorini is approximately 75 miles.
Given that a sailing yacht makes 5-8 knots miles per hour, lots of hours sailing/motoring have to be previewed for a sailing trip Athens-Mykonos-Santorini-Athens just to cover the distance.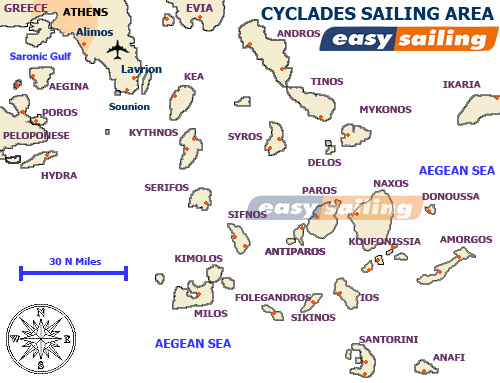 Calculating the distance Athens-Mykonos-Santorini-Athens it averages 42 hours of NON-STOP sailing. This will be with no time spent on relaxing, eating, swimming, snorkeling, hoping, exploring, shopping, resting or sleeping. For a one-week charter, and starting out of Athens or Lavrion charter base, it would be wise to plan to see only Mykonos island. The distance Athens-Santorini island-Athens could also be done within one week, but will include too long passages every day and will surely create fatigue. The plan's success will also rely heavily on favorable weather conditions. After all, even if Santorini island is reached on day 4 of a weekly bareboat charter, there will be a long sailing upwind for 130 miles ... or 22+ hours of non-stop sailing to sail back to Athens. Because of the distance between Athens and Santorini island and the frequent windy conditions (especially during July and August), we do not recommend sailing from Athens or Lavrion to Santorini, but just to Mykonos island at farthest (here is a suggested itinerary).
And what is the solution for those who wish to sail to Mykonos and Santorini within one-week charter? Budget and holiday duration permitting, a sailing yacht charter for two weeks is the solution.
No sailing charters are offered directly from/to Mykonos or Santorini islands? Santorini is all volcanic with deep waters and there is no marina on the island. A small fishing shelter is situated on the South coast of the island, but it is too small and mostly occupied by local day-trip and fishing boats.
Very few charter boats are based at Mykonos island. The bigger and smaller charter companies are not keen to organize a charter base in Mykonos, and those who tried so, have now stopped or minimized their number of charter boats. The conditions in Mykonos do not permit (not even to a long time yachting professionals) to provide a satisfactory level of service to the yacht charter customers. Not without a reason: Sailboats are banned from the old little public port since many years and the new marina 4km north of Mykonos town is very crowded in the summer, yacht berths are not guaranteed or pre-bookable, the facilities are rather poor, no toilets or showers are close, blown soil messes the yachts, safety during windy days is in doubt and the technical support is not ensured.
Easy Sailing does not offer and does not recommend chartering yachts out of Mykonos or Santorini islands. We know it is a pity, moreover because there are lately quite a few flights directly from many European cities ...

Another possibility would be to start a bareboat sailing week from the small charter base in Paros island which is located in the middle of the Cyclades islands. Here is a suggested itinerary for one-week sailing charter starting from Paros and visiting Mykonos and Santorini. But there are some difficulties here too:
First people have to get to and from Paros.
As most people arrive by plane at Athens international airport, they will have to catch a taxi from Athens airport to go to Piraeus port or Rafina port, then take a ferry to Paros island, after checking connections and timetables which might not be matching well. Same applies for their return. There is also a domestic flight Athens to Paros with smaller planes, which requires booking well in advance and is not usually cheap.
Another idea would be to fly from Europe directly to Mykonos or Santorini airports and take a ferry to Paros (quite frequent connection from May to October).
Second (and most determinant) is that the little public port of Paros island can serve a small number of charter boats. No surprise to hear there is no availability of charter yachts in Paros island since the sailing boats based there are very limited. If no sailing yachts can be offered out of Paros, the next option for a sailing charter week in the Cyclades islands would be to book a suitable boat from Athens (Alimos Marina or Lavrion port).
Another tip we would like to give is that all smaller charter yachts up to 37 feet long are less good for a comfortable yacht holiday in the Kyklades islands. Once winds get stronger, small boats will have a hard time with the short waves of the Aegean sea or during maneuvering in the small public ports. For this area, a larger sailing yacht gives more comfort and speed, a greater sense of safety, it is more stable and in general better to sail.
EASY SAILING may transfer a yacht to Paros yacht charter base (for skippered charters we could do deliveries to other islands too), though the time needed for the transfer of the yacht from Athens to the island and back will be part of the paid charter time and an extra one-way fee will apply.
Booking for two weeks sailing vacation
If you would consider/afford sailing holidays for 2 weeks (or for a minimum of 10-11 days if charter fleets allow so) then there is absolutely NO problem - just prepare your crew for the possibility of a bit "rough" seas for a while and set sails (!). Here is a suggested itinerary for 2 weeks bareboat sailing from/to Athens.
We feel your holiday time is valuable.... and thought to share the above information with you.