Why sail in Greece?
Greece is well known for its ancient history, its civilization, its stunning light, its clear water, its variety of sailing areas, its endless natural beauty and of course its hospitable people. Taking all the above into consideration together with the biggest charter fleet worldwide, we have the ideal location for a yacht charter or simply a sailing paradise on earth. Each island offers a different experience from the impressive whitewashed houses of the Cyclades Islands to the exquisite natural beauty of the Ionian Islands and to the special character of the Dodecanese Greek islands.
Greece is the sailing destination no one should miss.
Top 7 Reasons to Choose Greece for your Sailing Charter
Quality of the Greek waters

Milestone and cornerstone of the west civilization 2500-3000 BC, Myths, History, and Antiquities

Marine life and underwater magnificence

Greece has the bigger charter fleet in the world

Greek hospitality, mentality, food, and service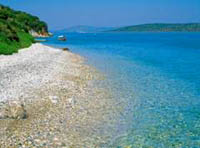 #1 Quality of the Greek water
Based on the European Union's Environmental Review of swimming Quality for 2006-2007, Greece had the top position in seven consecutive years for the highest standard of swimming water between the countries tested (UK, Ireland, Sweden, Finland, Germany, Netherlands, Belgium, France, Spain, Portugal, Italy, and Greece). In 2008 and 2009 Greece was second and on 2014 it managed to pick a 97% approval on its' water quality (EU Link). The famous "blue flag" was awarded to numerous beaches, without considering the beauty and the crystal waters all of the smaller Greek islands and islets, inlets, coves and sea caves that can only be accessed by boat. On 2014 it managed to pick a 97% water quality Read more for the Blue Flag awards at http://www.blueflag.org/blueflag/2006/Greece.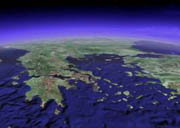 #2 Abundant Adventures in a wide-ranging scene
With more than 2,900 islands and islets and rocks, 1,431 beaches, endless blue seas and over 3,700 km of coastline Greece is THE sailing destination. There is no doubt Greece offers plentiful possibilities in yacht charter. Because of this endless options, it is important to let EASY SAILING - a reliable Yacht chartering company in Greece, orient you to the right direction and plan out with you an ideal sailing charter in the Greek islands. There are five areas in Greece with different sailing conditions that can cater every taste, every level of competence, no matter if the crew is a family that looks for a safe, quite and relaxed holiday or a party of friends in the hunt for night life and fun, or hardcore sailors in search for real wind or naturists seeking seclusion and untouched beauty.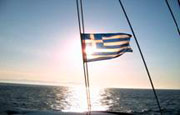 #3 Summertime at its best, endless sunshine & blue sky
Out of 365 days a year, Greece's sunshine and blue skies are well above 250 days.
December and January are the months with typical rain and cold, followed by partially cloudy spring days with rising temperatures. Lately, a few tropical rain showers (lasting from just a few hours to one day) in August or September are expected and most times are all welcomed as a chill from the high temperatures.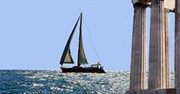 #4 Milestone and cornerstone of the west civilization 2500-3000 BC, Myths, History, and Antiquities
Just about under every rock, cove, inlet and island, there are thousands of years of history, myths, legends, culture and antiquities just waiting to be discovered. Who sails out of Athens or Lavrion cannot miss the view up to the temple of Poseidon in cape Sounion and this is only an example of an endless playground of discovery and approach of civilization and education. Odysseus was the first to cruise in the Greek islands and further beyond in the entire Mediterranean sea. Indubitably, he was the first yachtsman reported in history.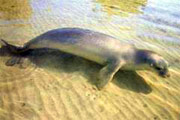 #5 Marine life and underwater magnificence
The Greek Dolphin -painted on many antiquities- is a symbol of peace and prosperity to the Greek people. It is an amazing sailing experience to sail with Greek Dolphins since they love to play with sailboats and especially with catamarans as they really enjoy swimming in between the two hulls directly under the net. Not by coincidence, too many people are proud of the exciting moments they lived and the amazing photos they shot with the dolphin near their bow and with the sea turtles and seals, they swamped with.
The largest concentrated population (up to 800 sea turtles each year) of the Careta-Careta Sea Turtles can be found on the shores of Laganas Bay of Zakynthos (Zante) island in the Ionian Sea from June through August. The beach has been designated from the Greek Ministry of Environment as an environmentally controlled area. Easy Sailing compliments, respects and encourages all actions taken in the above direction.
The existence of the Mediterranean Monk Seal, (Monachus Monachus) is the scientific proof of the good health of the waters of the Greek islands. The Monachus Monachus Seal can only live in clean non-polluted waters. Out of the few hundred remaining throughout Europe, the majority of them inhabit Greek Waters. The seal's survival is critical to the protection of all marine life as it is at the top of the nutrition pyramid. Its extinction will have a catastrophic effect on the rest of sea life. Easy Sailing supports all efforts towards the protection of the monk seal and alarms special attention to all people that charter a yacht in the Greek islands of Skiathos, Skopelos, Alonissos, Skyros, Kyra-Panagia, Piperi, Psathoura, Peristera, Youra, Skantzoura and all the surrounding areas of the National Marine Park of the Sporades. Special advise is given during the embarkation briefing for all yacht charters in Greece. Sailing holidays in the Greek islands should not add any more weight to the clogged natural life.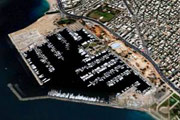 #6 Greece has the bigger charter fleet in the world.
Although no official survey has been carried out recently, it is a common secret that Greece operates the largest number of yachts for charter compared to all other countries on earth. Bareboat, fully crewed, yachts with skipper, speedboats, luxury motor yachts for private yacht charters, sailing yachts, catamarans, self sail motor boats, sailboats, motorsailers, flotillas, cabin charters - they are all offered from over 15 charter bases in Greece. Most vessels in Greece belong to the bareboat category since bareboat charters are the most popular, efficient and economic way for sailing holidays. Luxury yacht charters are also a strong point of the tourism in Greece since many new crewed motor yachts have been introduced for sailing holidays in Greece from 2006 to 2010.
#7 Greek hospitality, mentality, food and service
Even though the profit is the main purpose of every business in the tourism industry and despite Greece is a quite old tourist destination, the Greek hospitality still retains its very good reputation. Nice and warm people will assist you in most cases; will invite you to join their wedding celebration party as if you were a relative of the family and will generally treat you as a friend. The Greek wines, fresh fish, vegetables and the unique Greek cuisine (lately discovered as the most complete, balanced and healthy nutrition diet) are some of the stronger motivations for anybody to select Greece for sailing holidays. Get some good information in EASY SAILING document for Food and eating out in Greece. (we got help and copied things from http://www.paros-online.com