CATAMARAN sailing holidays in GREECE
Catamaran sailing in Greece becomes more and more popular for yacht charter holidays mainly because they provide better stability, performance at flat and rough waters, a dry soft & smooth horizontal sailing ride and easy handling.
People charter catamaran in the Greek islands (and everywhere) because they enjoy more space on deck and into the cabins and also because they do not lean like mono-hulls and because their shallow draft allows access where all keel boats can't go.
A sailing multihull with a local skipper/captain is also the ideal boat for first-time sailing holidays and for people that have no previous sailing / nautical experience.
EASY SAILING offers Catamarans for charter in the Greek islands in all the 5 different "sailing areas" in Greece:
• Cyclades islands (starting from Athens or Lavrion or Paros charter base)
• Saronic & Peloponnese coast (starting from Athens or Lavrion charter base)
• Dodecanese islands (starting from Kos or Rhodos base)
• Ionian islands (starting from Lefkas or Corfu base)
• Sporades islands (starting from Skiathos base)
Please click for the CATAMARAN PRICE LIST (prices to rent catamarans for charter in Greece).
More information and comparison of twin-hull and mono-hull sailing yachts: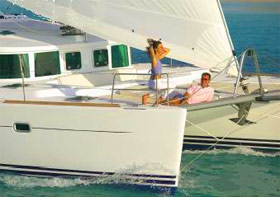 Sailing in a monohull or in a multi-hull is an entirely different sailing experience. Both charter boat types have unique characteristics and offer different benefits to your sailing vacations. Although it is practically a matter of personal taste, we will try to help you choose between the 2 types of yachts by lining up advantages and disadvantages of a catamaran:
ADVANTAGES OF A CATAMARAN:
A bi-hull charter yacht allows you to approach the coast quite close and anchor in shallow depths, small coves and hidden places which is unlike for all conventional sailing yachts with a keel
She does not lean, has an increased sailing stability (and sense of security) because of its extended beam / width
The catamaran glides on the sea (does not sail in a rocking motion) which can -many times- prevent motion sickness of the people onboard
The multi-hull katamaran with its twin engines makes manoeuvres in ports easier (even for the less experienced skippers) and its smaller draft makes it faster under sails (often not when sailing upwind) or power
Beds are longer and wider in catamarans and there is relatively more space and headroom in the cabins and the saloon and the galley is (almost) on the same level with the cockpit which offers panoramic view, eases the access inside and abolishes the fatiguing 3 , 4 or 5 steps of a sailing boat
The remote cabins of a catamaran offer more privacy to the guests and the big deck space will prompt anyone to unwind and relax - as in a beachfront veranda
The catmarans of 41 feet or more carry the dinghy and outboard engine on davits, which makes lifting and launching the rubber boat a lot easier.
The DISADVANTAGES OF A CATAMARAN are in many cases exactly its advantages.
Due to its size, a catamaran occupies two berths instead of one and then it is difficult to find a berth to moor the yacht in Greece during summertime.
A catamaran does not lean and consequently does not warn the skipper to reduce sail area which can at least result to a ripped sail.When the sails are reefed to ensure safety and prevent capsizing then the performance is usually affected.
There are fewer types of catamarans in Greece to choose from (compared to mono hulls), which limits options and leads to smaller discounts on rental prices of charters of these vessels in Greece.
Catamaras while upwind sailing, they cannot point as high as the mono-hulls do and they are difficult to tack, meaning they sail slightly slower in the frequently changing winds of the Greek islands (Fountain Pajot and Catana are in general performing better than Lagoon in upwind sailing).
The multi hulls having a small or no keel and large side surface, are significantly drifting leeway and once there is stronger wind they require real experience from the captain to make the correct maneuver and lift / drop anchor in ports without damaging other yachts nearby or stow / block its anchor in one of the two hulls.
Some people believe that the uncomfortable motion and behaviour of a catamaran is not easy to acquaint because of the short waves of the Greek seas and the two remote hulls that create an irregular movement to the vessel.
T I P S on H A N D L I N G and sailing A CATAMARAN in GREECE
If you are a monohull sailor and you have already booked or intend to rent a catamaran in Greece we have prepared the guidelines with all you need to know.
Mooring / docking / anchoring
To find a place to moor your wide catamaran you will have to enter a Greek island's port between 13.30 h and 15.00h. It will be a surprise if you find dock space later than that - especially in July and August at the peak of the charter season.
Take a very good care of the mooring lines and all kinds of ropes that float near your catamaran as you steer or move backwards during mooring. The props are situated less than a meter depth and no keel "protects" them and it is very easy for a catamaran to catch a rope to the propeller (most times a serious damage will be made)
A multi-hull offering just a little resistance to the water than a monohull, it takes more time to slow down than a monohull. So make sure you control the boat till it has completely stopped and do not let the boat slip sideways.
Like in all ports in Greece many ferries, hydrofoils, big and fast vessels passing by can create big waves that hill smash your yacht's stern to the dock. To prevent so, drop as much chain as you can and allow your stern as much distance as you can from the quay.
When it is windy, you should keep the boat straight into the wind, using the engines at idle speed. Drop the anchor promptly, and by the moment you feel the anchor holds good, back the boat straight with both engines in the most short, fast and accurate moves you can. It is important you do it all quite quickly and with much confidence that the catamaran will retain the line you have initially put.
If you choose to use a mooring line, you certainly need to set a bridle. Do not secure the mooring line only on one hull of the yacht, cause you can hardly predict how the catamaran will be moving/pivoting after the wind changes or if waves are created by other vessels in port.

All the above are valid for the public ports in the Aegean and the Ionian sea. Into organised marinas, everything is much-much safer, still, attention is needed.
Under Power
A catamaran having TWO engines, one in each hull located far apart from each other makes handling and manoeuvring very easy - for many much easier than a single engine sailing yacht. A multi hull can literally pivot around its vertical axis.
To go forward in a straight line: Put both engines forward - wheel centred.
To go back in straight line: Put both engines back - wheel centred.
To steer to starboard: Put PORT engine forward, STARBOARD engine back - wheel centred or a little to starboard.
To steer to port: Put STARBOARD engine forward, PORT engine back - wheel centred or a little to port.
Generally, handle a catamaran as if there is no steering wheel.


Under Sail
Most catamarans do not sail upwind that close as monohulls, although there has been much improvement during the last years. Going upwind, you will not get much closer than 45/50 degrees to the wind. If the sea is choppy and you are on a cat 38ft long, the yawing will be a little difficult. If you still decide to sail, bearing off 2-3 degrees will simplify things. To prevent drifting leeway you must put only the leeward engine at about 1300-1500 Rpm depending on the current wind force.
Going off the wind is what the cats love more. Do not necessarily try to go dead downwind, but if you select so, you better stay under jib or genoa only. A more efficient point of sail is between 120 and 150 degrees at which you should sail at a speed of about 40-50% of the true wind. No doubt, you will enjoy "overtaking" all monohulls around.
Distances between the Greek islands are rather short and you should not feel you are out of your planned route. Let your cat sailing at the angle it prefers, and remember there is always a nice beach to swim just a couple of miles away from the port you were to point. After all, this is one thing in Greece that makes the place a sailing paradise.
One problem of the catamarans is that they do not heel to give the signal to reef the sails. When it becomes very windy, things can become a little tricky-risky. When in an emergency, start decreasing sail area by using the sheet and traveller of the mainsail - this one will only be your quickest move possible. Other than that, usually, on a 38-40ft catamaran, you should put the first reef at around 17-19 knots of wind force, and the 2nd reef at 21-24 knots of wind. If you want to stay on the safe side of sailing then the genoa should be 1.5 meters before completely furled-in. Reefing the sails is no different than the procedure followed for a monohull keeled sailing yacht.
Tacking a catamaran is a little different than in a monohull: A big difference is that without sufficient speed, tack is almost impossible... unless you put the engine on.
Gain enough speed, start bringing the mainsail in close, tack the boat little by little through the wind to keep the speed. In order to help the bows turn better through the wind, loosen the genoa sheet before firming it to the other tack side. once the bows of the cat are on the other side of the wind, forget (for a moment) your desired course until you recover your original speed. Adjust bearing course after your speed is re-established.

Synomyms: Catmaran, catmarans, catamran, catamrans, cat, cats, kat, kats, twin-hull, doublehull, katamaran, katamarans, bi-hull, bi-hulls

cheap rent a catamaran in Greece ask here for our best charter price offer:


ClickThis email address is being protected from spambots. You need JavaScript enabled to view it.for information and price for catamaran Lagoon 380 in Greece with your CHARTER DATES and AREA so we give you our BEST POSSIBLE OFFER !!